F-Secure Mobile Security
17.9.0115059
Protection suite for Android devices
Not so long ago, in the same quadrant and on this same planet children were playing with wooden toys, they were jumping rope and were running around trying to catch each other for no apparent reason. Some may find it hard to imagine that this peculiar set of behaviors preceded the digital age. Today kids have access to advanced teaching tools such as computers and tablets. They no longer need to indulge themselves in activities that waste time and energy when they can connect to the internet and simply absorb experience and information.
Yes, I was being sarcastic. Did you know that there is already a discipline that treats children who are constantly being left in front of the screen? One of the tests that establishes whether a kid needs such treatment involves throwing a ball at him to see if he does anything with it. Sad, isn't it? On the same line of thought, F-Secure has a safety lock that involves access restrictions for three age categories: Adult, Teen and Child. Really? Give the kid a ball and go outside for once. And put that tablet somewhere high.
If you have managed to read this far then I congratulate you either for stepping over your ego or for being a responsible parent. My rant has actually nothing to do with F-Secure Mobile Security. Actually, F-Secure is somewhat of a solution.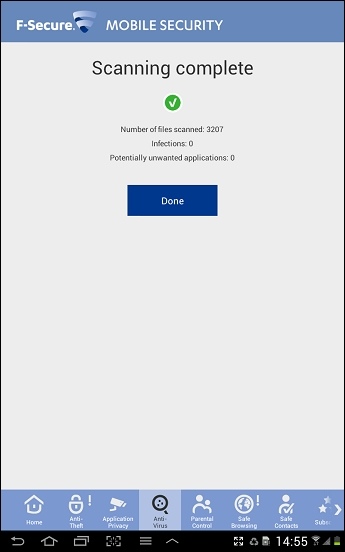 Hack job
F-Secure Mobile Security is primarily focused on keeping your device clean of malware and safe from security issues. A list sorts all of the apps into Few, Some and Many privacy issues. This is designed to draw your attention to those apps that could do the most harm in case they would. The Antivirus feature only performs full system scans at your request. But Mobile Security is also vigilant while installing new apps or when you shop and bank online.
The other security aspect is aimed towards the physical realm. Gadgets and children attract each other. The solution F-Secure offers is the capacity to lock any app and restrict certain types of content while browsing. While this option is on, browsing will only be done via a generic browser supplied by Mobile Security. This means you won't have access to your regular history, bookmarks, cookies or any other saved data while in this state.
What surprised me though is that the feature that requires the most care is not as polished as one might expect. I mean considering that whenever you disable a security feature F-Secure forgets the password, the most peculiar thing can happen. If you enable Anti-Theft and set up a password along with a screen lock and then you then disable Anti-theft the following situation shows up: The screen lock is still on because it's a system feature. Turning it off will require the F-Secure password, but since the password is no longer available your input will be invalid no matter what. Nice right?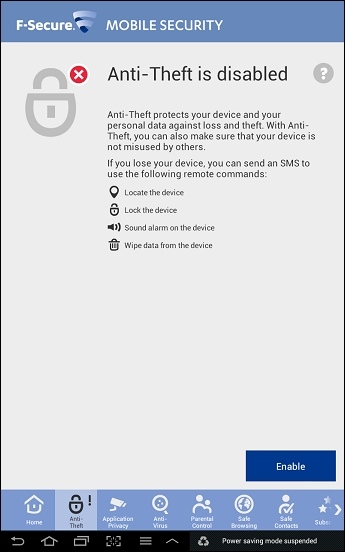 Features
Antivirus – Monitors browsing sessions, apps and can perform scans
Parental Control – Blocks apps and restricts internet access
Anti-theft – while enabled, a number of actions can be initiated remotely
F-Secure can also block phone numbers. Phone calls are rejected instantly (and quietly) while messages are simply blocked. They can all be reviewed but those bad people won't bother you anymore. I promise.
Pros
Protects against malware.
Protects the young minds from the internet.
Blocking contacts might be useful in some cases.
Cons
It cannot store permanent passwords.
The anti-theft feature is buggy.
It's kind of expensive (30$/year).
Conclusion
I find it hard to believe that someone would put a price on an app that wasn't thoroughly tested. Especially when it concerns device security. The whole system feels wonky and for that matter there even aren't enough features to justify the price. On the other hand that's probably a good thing.
RELATED PROGRAMS
Our Recommendations
---
---
---
---